Partner at
Die FranchiseMacher
June 2013 - Today
Entrepreneur
Die HandbuchMacher
November 2018 - Today
Franchise Development Manager
MBE Germany GmbH
June 2007 - May 2013
Expertise / Expert knowledge
Jana Jabs has been creating manuals for franchise systems for over 10 years, so that franchise partners around the world can access know-how that they need every day in their businesses.
Jana Jabs knows how entrepreneurs can make their business know-how available without complicated process charts, cumbersome flowcharts and expensive licensing software in a way that employees will be happy to access it at any time and from anywhere.
As a former competitive athlete, she lives a continuous improvement process in all areas of her life. As co-owner of FranchiseMacher, she builds franchise systems and, with her structured approach, provides young franchisors with guardrails for starting franchise expansion.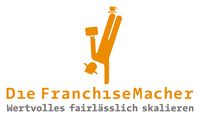 Die FranchiseMacher advise and accompany entrepreneurs who want to turn their existing business into a franchise system in just 18 months and playfully earn at least €10,000 per year with their first franchise partners. So far, more than 100 entrepreneurs have been accompanied by FranchiseMachern in this courageous step.
You too can successfully scale up with franchising by taking advantage of our unique FranchiseEvoluzzer approach:
Structure business processes clearly

Start expansion playfully

Reliably realize visions