The German Entrepreneur Benchmark Day 2020 will take place on 08 October 2020 in Dreieich (near Frankfurt am Main). You can find more information at benchmarkday.de.
The German Entrepreneur Benchmark Day sets new standards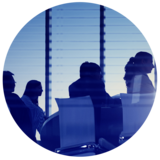 Gain exclusive insights into the strategies of successful entrepreneurs and managers from prosperous companies over a wide variety of industries. Gain overview and orientation in ever-accelerating changing markets.
Themed "Insights and Know-how Exchange of Future-proof Strategies", entrepreneurs, managers and investors meet for sharing experience, networking and learning from the best.
Forum for Innovation and Growth
Creative business ideas
Exchange of experience
Learning from the best
Are you ready for new impulses?
Take advantage of this unique industry get-together with high-caliber attendees. On 26 September 2019, Business Community, MHK Group, CRONBANK, German Entrepreneur Association and the Business Network International are hosting the German Entrepreneur Benchmark Day. It's the industry venue for small and medium-sized companies as well as decentralised companies and brands.
Trade is change - more topical than ever!
Prices and discounts - how do we get out of the spiral of discounts? Shaping the future, what does the customer expect from stationary retail?
Differentiation of different store formats. Behavioral change - from a seller towards a host. Outlook for the stationary trade - if trade dies it is not the fault of the customer!
2:00 pm - 3:30 pm
Breakout Sessions
The Breakout Sessions offer the opportunity to reflect and to exchange know-how on the core topics presented with the speakers themseves in a dialogue. Afterwards, the essential content and results of the sessions will be presented to all participants and then made available as a Know-how manual after the event.
The German Entrepreneur Benchmark Day 2019 will take place in the area3 of MHK Group, Frankfurter Straße 155, 63303 Dreieich (near Frankfurt am Main). The area3 is located in Dreieich, only 15 kilometers from Frankfurt city center and 10 kilometers from the airport. Highways and train stations can be reached in no time.
For all participants a parking garage is available for free use. Electric cars can be loaded in the basement of the parking garage at several parking lots. The entrance of the parking garage is located in the Robert-Bosch-Straße 12. Please use this address for your arrival with the navigation device. From the parking garage, you can reach the area 3 directly through the gardens.
Mercure Hotel Frankfurt Airport Neu-Isenburg
Frankfurter Str. 190, 63263 Neu-Isenburg
+49 6102 59940 Open map
Distance to venue: 1,5 km
Do you have further questions?
Your personal contact will be at your disposal with words and deeds.